Whether your municipality is facing a staff shortage, dealing with a fluctuating workload, or needing additional technical expertise on a large or complex project, a third-party building plan review provider can offer the services you need to get caught up, even if it's just for a temporary window of time.
By having access to a pool of qualified, on-demand professionals who can back up your full-time staff during busy times, you can better handle economic ups and downs, construction booms, and big projects — all while maintaining the high level of service that will keep developers knocking on your door.
Who benefits from third-party partners (and who doesn't)
Over the years, we've seen plan review services help municipalities that:
Have started implementing process efficiencies
Are paying overtime for plan review staff
Are receiving complaints about plan review turnarounds
Value best practices
Have complex and varied development —unusual projects and conditions, large facilities, etc.
That being said, we've found that third-party plan review doesn't always benefit municipalities that:
Don't have enough plan review work for one examiner
Have only simple and straightforward development projects lined up
Why choose SAFEbuilt for plan review?
During our 30+ years partnering with communities large and small across the nation, SAFEbuilt has picked up a few tricks of the trade — proven techniques that help municipalities:
Stand out to developers
Keep residents happy
Avoid budget shortfalls
Enhance their communities
With large networks of ICC-certified plans examiners, third-party partners can lighten the building plan review load, helping your department reach life-safety and code compliance standards in a timely and cost-effective manner.
Get caught up on plan reviews
Maybe you need your staff to focus on incoming permit applications and other tasks while you send all of your delayed plan reviews to third-party examiners. Or maybe you have a six-week backlog and want to be up to speed in the next three months (e.g., your department handles "X" plan reviews a day and lets a third-party expert take on the remainder until you've put your backlog behind you).
One of the many benefits of working with a third-party partner is that you can send out as few or as many plan reviews as it takes for your department to get caught up. And once you're back on track, your department can get the flexible ongoing support it needs to avoid building plan review backlogs altogether.
See how a plan review evaluation helped this stressed out building department
Macon-Bibb Building Department came to SAFEbuilt stressed and looking for ways to streamline processes and give their team time back in their days.
As part of their evaluation, SAFEbuilt developed and implemented checklists to include adequate project scope of work, process alignment, and calibration. Additionally, a standard plan review format and turnaround times were put in place, and Fire Prevention was included in the plan review process. Find out more about how we turned the department's plan review process around, taking turnaround times from 30 days to 10 for light commercial, and 15 for heavy commercial.
Bring us in as needed to fill scheduling gaps
Our as-needed plan review services allow for supplement fluctuations in your staffing, including providing team members when your full-time staff is out on: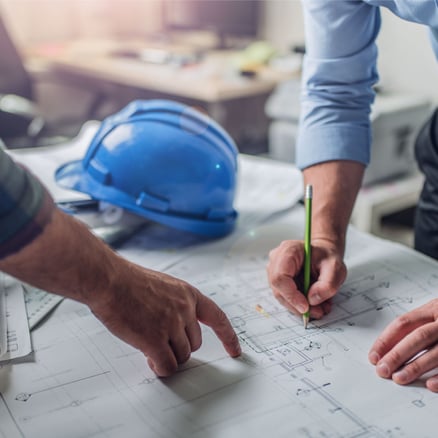 Maternity leave
FMLA
Scheduled vacations
We can also jump into projects as needed to help your team handle changing workloads and busy seasons so that you can:
Keep up with development, managing ups and downs in construction activity
Secure projects by guaranteeing a timely process for developers
Better serve your customers with the ability to be responsive
Attract new development as time goes on
Minimize internal and external strife
Reduce budget risk (using third-party resources only when needed)
Long-term plan review arrangements for projects of all sizes
As your needs evolve over time, you can choose the level of support to best help your department and your community, including:
Speedy supplemental plan reviews when permit applications pour in
Large/complex project plan reviews that don't compromise quality or increase the headcount in your department
Electronic Plan Reviews that help streamline the process and save money (for applicants and building departments alike)
Take the guesswork out of your plan reviews
Our approach to plan reviews includes the following so that you always know the status of your projects (and can work with the peace of mind that nothing is missed):
Tracking — We log plans into our database and track them through our review process. Once entered, the plans are sent to the appropriate plans examiner.
Corrections — Plans are reviewed for compliance with all applicable federal, state, and local regulations. Corrections are noted directly on the plans. Preliminary consultation with applicants is also available.
Verification — All information on each submittal is checked against the permit application for accuracy.
Communications — Results are communicated to the applicant the same day. Any needed corrections are explained to the applicant in detail.
Interested in finding out more about if third-party plan review is right for you?