Backlogs may be part of municipal life, but their consequences don't have to be
While the focus on the backlogs caused by permit delays and plan review bottlenecks usually falls on budgetary impacts and project delivery dates, the less immediately visible risks to community health and safety also rise when those backlogs linger. When the safety and maintenance of rental units are deprioritized, for example, so too is the overall quality of life for thousands of tenants.

Even in areas where various construction and building projects have been prioritized, there can still be issues with having work inspected in a timely manner. Lack of local resources and staffing issues can further add to the complications and raise legitimate safety concerns. Staff overwhelmed by a daunting backlog, no matter how dedicated or talented they may be, cannot perform as efficiently, effectively, or accurately as they are normally able if they are overburdened, under-resourced, or burned out.
Emergency preparedness and disaster recovery also face an immediate threat when your backlog looms. Whether it is your infrastructure or your staff that is in need of support, the stress of an emergency can put even the most resourced municipalities to the test. And with the increase in severity and frequency of extreme weather — even outside of hurricane, tornado, and wildfire season — backlogs pose additional safety threats to staff and community alike. One of the best ways to protect communities against natural hazards is through well-enforced building codes, according to FEMA.
Simple steps to beating back your backlog
Fortunately, there are ways to help clear that inspection backlog to not only keep projects moving but also to maintain the safety of your community as a whole.
Four steps to faster plan reviews
By taking four intentional steps to make your department more efficient, you can achieve the 5-day residential plan review turnarounds (and 10-day commercial turnarounds) that we've been able to deliver in our 1,200+ partner communities around the country.
Step 1: Identify (and eliminate) wasted time spent during plan review
Step 2: Set proactive performance goals and metrics
Step 3: Encourage rock-solid communication
Step 4: Make sure you have the right staff (and set them up for success)

You can read a more in-depth description of this process here.
Two ways to speed up the development process
1. Take advantage of electronic plan reviews
Moving to a digital format for plan reviews doesn't just reduce paper — it improves efficiency and leaves less room for error. When plans are reviewed electronically, they can be reviewed anywhere by a certified reviewer while adhering to local codes and ordinances, and they can be concurrently reviewed by different departments, thereby eliminating a bottleneck in the review process.

2. Outsource to expedite building permits
Not much can happen on a project site until permits are finalized. As a result, one of the best ways to keep projects moving is to speed up the building permit process. Outsourcing can help you tackle larger projects so that municipal staff can stay focused on smaller, standard requests. Not only will this help keep smaller projects moving forward, but your outsourced talent can bring their experience to your backlogged projects.

You can read a more in-depth description of this process here.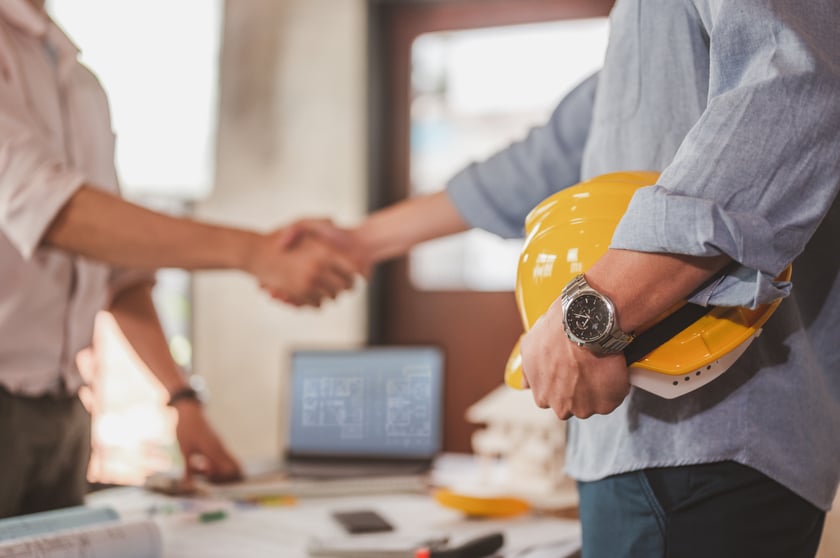 Who's got your backlog?
When it comes to clearing your growing building department backlogs, you have options. It's never too late to minimize the risk to your community's health and safety and keep projects moving. But it's important to find a partner who keeps the bigger picture of your municipality's overall concerns and goals, and not just the backlog, in perspective.

We want to help. Our team includes subject matter experts, building officials, plan reviewers, inspectors, business managers, problem solvers, and customer relationship managers who can help you manage your backlog. We understand building department services and develop operational and staffing solutions that best fit the needs of your community so you can focus on the needs at hand.

Here are just two of the municipalities we've helped with backlog management.
Boosting plan review process and customer service in Richmond
When the City of Richmond found itself in the midst of unprecedented rapid city growth and incessant permit backlogs that followed, they knew they had to act fast to mitigate the issue, and they saw it as a "challenge to change". One of the key components to reduce the backlog was to hire SAFEbuilt as a partner to provide plan review and staff augmentation services. Read how.
Solving for growth and staff challenges in Dallas
As the ninth-largest city in the United States, Dallas, Texas has been rapidly growing and shows no signs of slowing down anytime soon. The rapid growth combined with numerous challenges caused by the pandemic created a residential permit backlog that was steadily growing. With the urgent need to push permits through to enable construction and quickly hiring additional full-time staff not being an option, Kris Sweckard, Director of Sustainable Development and Construction, began to look for alternate solutions … which led to a partnership with SAFEbuilt. Read all about it.
SAFEbuilt has what you need
Whether you need supplemental staff, a full-service embedded department, increased efficiencies, or innovative tools, SAFEbuilt will help you deliver a higher level of customer service at every touch point to manage your backlog and help your projects (and your community) thrive.